Local time on June 20th, a group of Brigadier Muhammad Naseem of Pakistani Army Headquarters and Senior Colonel Col ShabbirJanjua, accompanied by the chief engineer of Hubu power plant EPC project and Hangzhou Water Treatment Technology Development Center(HWC) field project team, visited and investigated the Hubu Seawater desalination Project in Pakistan contracted by HWC and exchanged friendly.
Brigadier Muhammad Naseem along with his delegation arrived at project field
Pakistan, which faces a desperate shortage of water and energy crisis, has about a thousand cubic meters per capita water availability and more than twenty million acres are desolated for the lack of irrigation. Both local living water and municipal water need to be purchased abroad. Pakistan is the country alongside "the Belt and Road" and always has stable relationships with China. Our country has initiated the construction of China-Pakistan Economic Corridor in 2013, planned on launching a large number of power energy cooperation projects to help Pakistan to alleviate energy crisis. The electric power project can produce amounts of matched requirements of seawater desalination project, in this case, HWC actively responded to "Going out" policy, contracted to build this Hubu Seawater desalination Project in Pakistan and concentrated on construction, it has basically completed installing so far.
After the brigadier along with his delegation arriving at field, Zhao Haohua, the center Hubu project field leader, was first to introduce the overall construction of the project. The field professional electrical engineer Liao Weiliang made supplementary explanation of electrical instrument control system. Then, the investigate group visited the water intake engineering construction、filter installation、ultrafiltration workshop and reverse osmosis workshop. HWC Hubu project team hosted the whore explanation and accompanied to introduce the technological process of Hubu seawater desalination field. The investigate group highly praised the all kinds of seawater desalination equipment in the field and China's rigorous working attitude. At the meanwhile, Brigadier Muhammad Naseem indicated that Pakistan was facing desperate crisis of water resources and in urgent need of learning seawater desalination experience from China, hoping that strengthen studying and cooperation progress with HWC.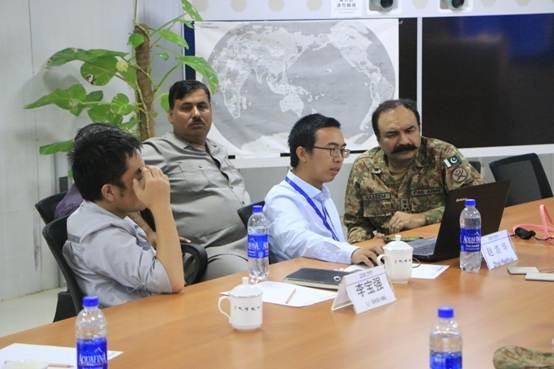 HWC Hubu project field leader Zhao Haohua introduces the project situation to Pakistan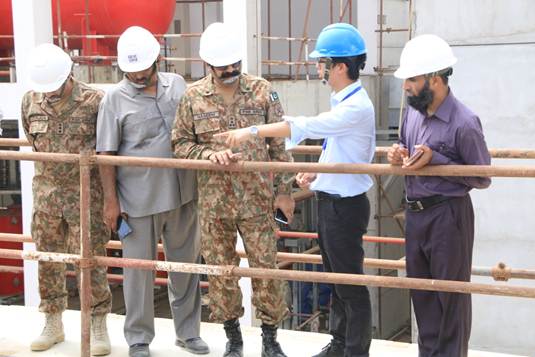 Brigadier Muhammad Naseem along with his delegation visit project field
After finishing the visitation, HWC project team leader also exchanged with Pakistan about project cooperation in Gwadar. In order to make a better construction of seawater desalination project in Gwadar, Brigadier along with his delegation expressed that they will go to the seawater desalination survey base in China Investigation Center recently.
Based on seawater desalination, taking "The Belt and Road" policy as an opportunity, aiming for constructing international projects and boosting Sino- foreign cooperation and exchange, HWC has been succeed in entering international market and will insist on the mission of "developing water technology, benefiting the whole society", continuing to help overseas customers to resolve the double problems of "energy + water resources".